Inter-company training
Inter-company training is aimed at people or groups belonging to different companies.
The contents of our courses are divided into 7 themes, covering all the training fields in the field of Occupational Safety, Management Systems and Organizational Models, Privacy, Food Hygiene and the Environment. Courses consist of different classroom stages, from classical frontal teaching, to experiential moments such as exercises and workshops, elaborated and studied to encourage learner engagement and interaction.
The courses Frareg proposes are aimed at companies or people who want to upgrade their skills and validate their professional skills.
Inter-company courses can be consulted through the course catalog.
Benefits of Inter-company Training
Training is designed for heterogeneous groups of people who come from structures of all types and with different needs; This can have many advantages:
Exchange of ideas and experiences
Working groups can become real moments of comparison between different realities
Areas
The design experience of our Training Area coupled with the expertise of our teachers, all consultants and specialists in their specific field, allows us to plan for you courses on the following topics:
Safety and Hygiene at Work
Prevention and Protection Service Officers, Representatives for Safety of Workers, Fire Prevention for the Emergency Team, Emergency Response Officers, Coordinator under design and construction, HACCP, Waste Management
Quality Certification Introduction to the Quality System in accordance with ISO 9000, Approach to the implementation of ISO 14000 environmental certification standards. Deepening the application of ISO 9000 standards
Privacy
Corporate Social Responsibility (CSR)
Organizational Models
Methodology
Frareg is a certified company. This aspect also affects training, as well as being a priority required by Italian law. Each course before being issued is:
Designed: through the identification of training needs
Delivered: calibrated according to the groups that are being formed
Assessed: through tests, exercises, and lectures with teachers.
Frareg teachers respect all the "Frareg Quality Chart" and are evaluated with fixed deadlines.
Classroom Training
Frareg offers its clients a complete and certified training proposal as well as the possibility of conducting courses throughout the territory and in foreign languages as required. It employs more than 100 trainers with specific skills and diplomas as required by the State Status Agreement.
Frareg performs all his courses on certified standards, is accredited by the Lombardy Region as a training institution for higher and continuing education – as required by the State State Accord – in order to be able to undergo specific training such as training of security actors in the company.
For more information, see the detail pages: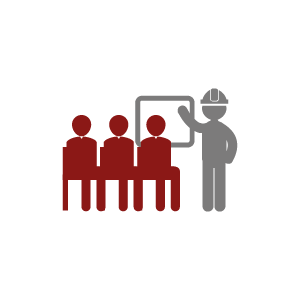 Informazioni di dettaglio sui nostri corsi interaziendali: durata, pagamenti, attestati di frequenza, pernottamento in hotel, dati richiesti, rinunce, ecc